CompuBee® successfully participates in VenDEx 2016 exhibition
Press-Release
CompuBee® successfully participates in VenDEx 2016 exhibition
January 19, 2016–Thane
CompuBee® Technologies Pvt. Ltd. (henceforth CompuBee®) successfully participated in "VenDEx 2016 – Industrial Exhibition and National Vendor Development Program" jointly organized by Chamber of Small Scale Industries (COSIA) and Ministry Of MSME, Govt. Of India in the "Gaondevi Maidan – Thane". Over 120 organizations including HPCL, BPCL, Konkan Railway, Western Railway, Mazgaon Docks, participated in this exhibition. This exhibition was inaugurated by Union Minister of MSME (Independant Charge) Mr. Kalraj Mishra. More than 2500 visitors visited this exhibition in 3 days. The main purpose this Exhibition is to promote and develop the MSME vendor base for the larger PSU enterprises.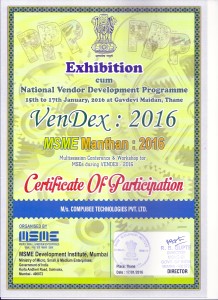 About Ministry of MSME, Govt. Of India:
Ministry of Micro, Small & Medium Enterprises (MSME) has been established by Govt. Of India for "Sustainable development of globally competitive Micro, Small and Medium Enterprises as an engine of growth for the Indian Economy." Ministry Of MSME promotes growth and development of Micro, Small and Medium Enterprises,
including Khadi, Village and Coir industries, so as to achieve a cumulative growth of 50% in the number of registered enterprises and to enhance contribution to GDP to 10% by 2016-17.
About TSSIA:
Thane Small Scale Industries Association popularly known as TSSIA was established in 1974 and registered in 1977. TSSIA is the largest registered Small Scale Industries Association in the state of Maharashtra and has been functioning for past 40 years. Today, TSSIA has its own spacious building with well-equipped and modern facilities, to cater to the welfare of trade and industries and various needs of Small Scale Industries in Thane District. TSSIA has a membership of over 3000 MSME's situated in Thane city and surrounding areas. Recognizing TSSIA's contribution towards the cause of MSME, Government of Maharashtra has nominated TSSIA on MSME Facilitation Council for Konkan Region (2010-2012) under the MSMED Act, 2006.
About CompuBee® Technologies Pvt. Ltd.:
CompuBee® was established in the year 2008 to offer IT related services. Later on CompuBee® added various services in its portfolio including ERP Services, CRM Solutions, Project Management Consulting Services, Business Process Re-engineering services, Engineering Consulting Services, Software Development and Management services and Web Development Services.
For further information please contact at Send Mail