About us – CompuBee® – Software and Professional Services Company in Thane
About us – CompuBee® – Software and Professional Services Company in Thane
CompuBee Technologies Pvt. Ltd.™ (DUNS® Number – 863750070), is a Software and Professional Services Company in Thane. Thane is a rapidly growing suburb of Mumbai India. CompuBee® is a global provider of professional services including Engineering Consulting, Management Consulting, Application management & support services and ERP consulting & implementation services. At CompuBee®, we take pride in adding quantifiable value in our customers' businesses and consistently exceeding their expectations. We provide "World Class Services at Indian Prices".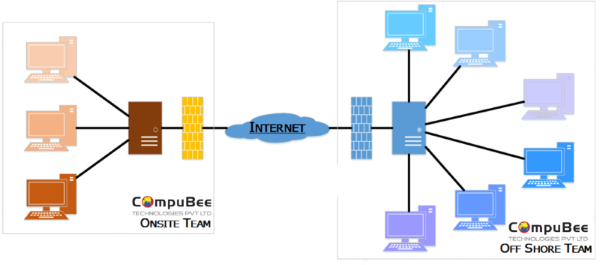 Our unique Delivery Model delivers value to our customers by delivering services at reduced costs and compressing the delivery schedule thereby exceeding customer expectations. CompuBee has customer focused on-site consultants who are augmented by our offshore development center. Our Methodology and Delivery processes ensure that customer requirements are met and projects are delivered on time with high quality standards. For this, we have excellent team of consultants having unique combination of industry and consulting experience that enables them to make our customers more competitive.
"To help our clients in generating wealth for society" is cornerstone of our philosophy. At CompuBee, we employ the Information Systems in such a way that Information Systems give maximum returns on investments for our clients. We also believe that Information systems are built for helping the organizations to achieve their primary business goals and hence they should be simple and easy to understand for the common employees. CompuBee's consultants simplify the information systems such that everybody in the organization understands them yet they are robust enough so that they meet all the legal and safety requirements.
At CompuBee, we are ethical company in all our business dealings. CompuBee do not employ child labour or encourage child labour employment. We treat our employees as our asset and hence treat them with utmost care. CompuBee also do not discriminate our employees based on religion, sex, gender, ethnicity, etc. We actively encourage all our stake-holders to be environmentally conscious and promote greener earth.
Company Philosophy
The name CompuBee® is combination of first 5 letters of Computer to indicate that we work in the modern area of computers and for all business aspects computers are essential, Similar to this CompuBee provides modern and essential professional services to its various business customers. The last 3 letters of our name are derived from 'HoneyBee'. As the honeybees toils selflessly to create honey which is used by man-kind, CompuBee® wants to carry out the supporting activities of the clients' business and help its clients in "Generating wealth for society". CompuBee does this by helping it's clients in offering them the state of the technological software, cutting edge technological processes and the best ever service experience to its clients as a trusted Software and Professional Services Company in Thane.
Membership
CompuBee® being a service providing Company, we are CompuBee® life member of "Thane Small Scale Industries Association" since April 2011. The details of this membership can be checked at CompuBee®-TSSIA Membership Details.
CompuBee® is also life member of Thane Branch of Laghu Udyog Bharti.
CompuBee® is also member of Mumbai Chapter of Indo-German Chamber Of Commerce.
Corporate Social Responsibility
As part of Corporate Social Responsibility (CSR), CompuBee® donates part of its profit for social causes such as "Cancer Fighting", "Cancer Prevention", "Children Education", "Victims of Natural Calamities"etc. to the active NGOs in these areas.